Above deck or below deck
Designed like a steampunk adventure inside the city of The Hague, we welcome you to our Captain's home. This bar is soaked in dark lighting, never ending waves of music, shimmering ambiance and mixologists who seemingly never stop moving. Together, our team at Ultramarijn is dedicated to delivering an exceptional cocktail experience that surpasses expectations. With the crew's expertise, creativity, and genuine passion for their craft, they ensure that each guest's visit to Ultramarijn is a delightful and unforgettable journey.
Jobs
Meet the sailors
Following the footsteps of The Captain, our crew goes where the wind blows. Jono, Ruben, and Nienke take cocktails to a scientific level. When the Captain gave his crew the green light to go crazy with the menu, they went crazy. Inspired by the directions of the compass, flavours from east to west, and spices that will take the guests to the other side of the world without actually being there.
Together with the crew, you will be updating the menu which goes beyond classic cocktails and includes signature highballs, great mocktails, and comforting dishes. Apart from creating fantastic cocktails, you know that a guest's experience will only be memorable with the addition of a personal touch and an unbeatable smile.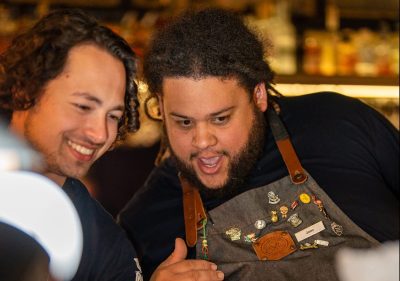 Careers at Ultramarijn
The Captain is always happy to meet new sailors.