It's Friday evening, the bar is full of people wanting to enjoy the newest hotspot in town. They're all having drinks, which are prepared by you! As the new bartender at voco The Hague, this will be your daily life! From preparing freshly made lemonades to exotic cocktails, you can do it all. With access to the best ingredients and liquors, you can explore your creativity. So, are you ready for a trip to the newest hotspot in town.
All about Ultramarijn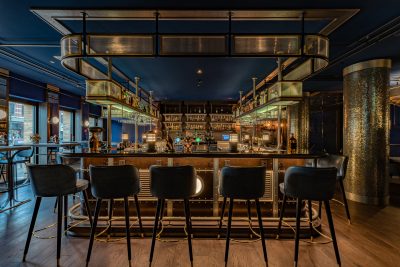 Designed like a steampunk adventure inside the city of The Hague, we welcome you to our Captain's home. This bar is soaked in dark lighting, never ending waves of music, shimmering ambiance and mixologists who seemingly never stop moving. With a menu inspired by the directions of the wind – guests from all ends of the world can come together to enjoy new cocktail and coffee tastes. Together with the crew you will be updating the menu which goes beyond classic cocktails and includes signature highballs great mocktails and comforting dishes. Apart from creating fantastic cocktails you know that a guest's experience will only be memorable with the addition of a personal touch and an unbeatable smile.
Do you have what it takes?
Creating a warm and welcome to everyone and setting the tone for each guest's experience.
Prepare and serve drinks to high standards and highlight promotions to guests.
Work with your restaurant colleagues to offer a seamless food service.
Setting-up your bar – stock up on all the supplies you'll need manage your inventory, and make sure all your equipment is functioning properly.
Servicing guests in one of the bars of the hotel according to the standard operating procedures that are in place.
Making sure to work in a clean environment and well-equipped bar to deliver the best service possible.
Working closely with the baristas and other bartenders to create a menu that implements current trends and local products.
Being familiar with food & drink pairing. Collaborating with the rest of the team on great combinations that add to a great experience at voco® The Hague.
Living Ultramarijn, Botanica and the voco™ brand with pride, passion & energy. Creating & inspiring others to deliver memorable branded guest experiences.
Ad-hoc duties as required – unexpected moments when we have to pull together as a team to get a task done.
Benefits
You'll be part of the voco® life
Competitive salary and travel allowance based on the distance between your home and the hotel
Staff discount at 6000+ IHG hotels worldwide. You'll be able to stay at hotels for a discounted rate and you'll get 50% discount on your restaurant and bar bill
Overnight stay at voco® The Hague as part of your onboarding
Special friends and family discount for stays at voco The Hague including breakfast
We have a staff canteen in which we serve staff meals
Discounts to several cultural events such as museums, festivals, theatre, musicals, concerts and much more
Curious about different departments? We offer cross trainings!
To stay fit we offer a 20% discount on your contract with Trainmore + 1 Euro discount for every time you go!
Discount at local businesses in The Hague.
Your staff uniform will be washed by the hotel
There will be staff parties, events and departmental outings
You'll be working in a passionate and ambitious team
You'll have the opportunity to take part in trainings and workshops
You'll be working for an international hotel chain in the heart of The Hague
"Ultramarijn offers a little bit of escapism for both our guests and our crew. Behind every one of our signature cocktails, premium spirits and local beers there's a story. "
Ruben – Ultramarijn Bar Manager