First things first, breakfast. This is when the F&B experience for guests starts, as well as the show for the F&B team! You will guide the team throughout the day, to make sure the guests have the best experience possible. From helping during breakfast to serving guests their 3 course menu, you can do it all! You will improve the service and will come up with creative ideas, which you can implement yourself! Are you ready to show your skills at voco® The Hague?
All about Botanica
Welcome to Botanica, a fantastic urban garden, a culinary and artistic oasis hidden in the heart of The Hague. It is an extraordinary space that blurs the boundaries between inside and outside, complete with a real garden, kitchen, pantry, bar, and lounge. Botanica is the perfect place to explore the surprising botanical world from the Netherlands and beyond.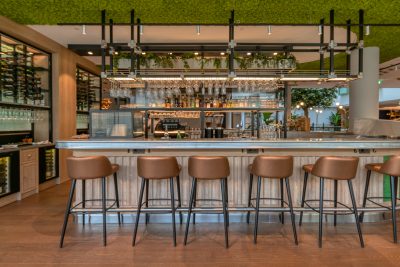 What will you be doing?
Supporting the Restaurant Lead and guiding all voco hosts to deliver outstanding service.
Being a true host to the guests of Botanica in all serving periods while adding your personal touch to every service touchpoint.
The correct usage and care of all the different tools and equipment in the workplace
Handling cash, credit card and room charge payments and closing the cashier at the end of your shift.
Helping create a safe environment for yourself, guests, and your colleagues by following our safety procedures and informing your supervisor on unsafe situations.
A proactive attitude towards anything that can make the experience of a guest better.
Meeting local cleanliness and hygiene laws, you only accept a spotless work environment.
Give guests an unforgettable experience by helping with any queries or advice since you are knowledgeable about all that we offer. And where applicable you give personal recommendations on all that The Hague has to offer.
Enhancing the culinary experience of our guests through suggestive sales.
Living Botanica and the voco™ brand with pride, passion & energy. You inspire others to deliver memorable branded guest experiences.
Developing and guiding your team to make sure all individuals can be the best version of their selves. Improving their performance through coaching & feedback and create performance and development goals.
Promoting teamwork and lifestyle service through daily communication and coordination with other teams.
Do you have what it takes?
You are a natural leader and have experience in managing a team
You have work experience in the F&B department of a hotel or restaurant.
You have in-depth professional knowledge in the field of food and drink, and you are happy to convey your enthusiasm about this subject to guests and colleagues.
You have strong communication and organizational skills, and you have a good command of the English language.
Benefits
You'll be part of the voco® life
Competitive salary and travel allowance based on the distance between your home and the hotel
Staff discount at 6000+ IHG hotels worldwide. You'll be able to stay at hotels for a discounted rate and you'll get 50% discount on your restaurant and bar bill
Overnight stay at voco® The Hague as part of your onboarding
Special friends and family discount for stays at voco The Hague including breakfast
We have a staff canteen in which we serve staff meals
Discounts to several cultural events such as museums, festivals, theatre, musicals, concerts and much more
Curious about different departments? We offer cross trainings!
To stay fit we offer a 20% discount on your contract with Trainmore + 1 Euro discount for every time you go!
Discount on a collective health insurance
Discount at local businesses in The Hague.
Once a year you get to spend a paid day as a Volunteering Day to volunteer for a charity of your choice.
Your staff uniform will be washed by the hotel
There will be staff parties, events and departmental outings
You'll be working in a passionate and ambitious team
You'll have the opportunity to take part in trainings and workshops
You'll be working for an international hotel chain in the heart of The Hague
"At our restaurant we blend passion, creativity, and teamwork to create memorable breakfast, lunch and dining experiences. "
Daan Verheul – Operational Leader