Can you imagine walking to work in the morning, to one of the most beautiful hotels in The Hague? When arriving to work, your day of giving guests unforgettable experiences starts! From taking their dinner order to recommending cocktails, you can do it all. Together with an amazing team of mixologists, chefs and baristas; you will have the honour of translating their hard work onto the guest's table. At the end of the day, you leave the hotel fulfilled and smiling because the guests left smiling too.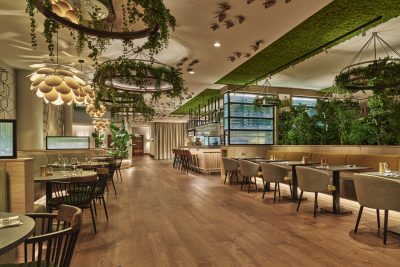 Ready to land this internship?
Being a true host to the guests of Botanica and Ultramarijn in all serving periods while adding your personal touch to every service touchpoint.
Helping create a safe environment for yourself, guests, and your colleagues by following our safety procedures and informing your supervisor on unsafe situations.
A proactive attitude towards anything that can make the experience of a guest better.
Meeting local cleanliness and hygiene laws, you only accept a spotless work environment.
Occasionally assist the kitchen and stewarding in food preparation and dishwashing.
Give guests an unforgettable experience by helping with any queries or advice since you are knowledgeable about all that we offer. And where applicable you give personal recommendations on all that The Hague has to offer.
Enhancing the culinary experience of our guests through suggestive sales.
Living Botanica, Ultramarijn and the voco™ brand with pride, passion & energy. And you inspire others to deliver memorable branded guest experiences.
Promoting teamwork and lifestyle service through daily communication and coordination with other teams.
Ad-hoc duties as required – unexpected moments when we have to pull together as a team to get a task done.
What we need from you
Passion for hospitality.
Strong organizational skills.
Pro-active attitude and eye for detail with a natural drive for continuous improvement.
A naturally outgoing and friendly personality with a passion for service excellence to consistently deliver and demonstrate voco™ service standards to our voco™ guests.
A true "team-player" mentality and flexible attitude towards a diverse set of tasks.
Excellent communication skills in English and preferably also in Dutch. Another language is always a plus.
Benefits
You'll be part of the voco® life
Competitive salary and travel allowance based on the distance between your home and the hotel
Staff discount at 6000+ IHG hotels worldwide. You'll be able to stay at hotels for a discounted rate and you'll get 50% discount on your restaurant and bar bill
Overnight stay at voco® The Hague as part of your onboarding
Special friends and family discount for stays at voco The Hague including breakfast
We have a staff canteen in which we serve staff meals
Discounts to several cultural events such as museums, festivals, theatre, musicals, concerts and much more
Curious about different departments? We offer cross trainings!
To stay fit we offer a 20% discount on your contract with Trainmore + 1 Euro discount for every time you go!
Discount at local businesses in The Hague.
Your staff uniform will be washed by the hotel
There will be staff parties, events and departmental outings
You'll be working in a passionate and ambitious team
You'll have the opportunity to take part in trainings and workshops
You'll be working for an international hotel chain in the heart of The Hague