A more sustainable future step by step
We recognize the impact of our business activities on both the environment and the surrounding community and society. As a significant player in the hospitality industry, we firmly believe in conducting our operations with the utmost responsibility. Our commitment is to ensure that our business practices contribute to the preservation of the environment, making it sustainable for the benefit of future generations.
1. We actively keep ourselves informed of CSR developments and are supported in this by Green Label Service, an expert in the field of sustainability within hotels.

2.We educate our employees on sustainability, recognizing that they play a pivotal role in implementing our policies within the workplace. To drive innovation and advocate for sustainable practices, we have established a Green Team comprising passionate individuals. This team spearheads new projects, serves as a spokesperson for sustainability within and beyond the organization, and provides support for all eco-friendly initiatives at the hotel.

3. We inform our guests and ask for their contribution
4. We inform our suppliers about our corporate social responsibility and ask for their cooperation based on a sustainability statement.
5. We continuously work on improving our purchasing process and focus in particular on goods and services that preferably have a recognized quality mark. Examples are
Daily cleaning products.

Paper towels, toilet, and printing paper.

Dishwasher detergent and rinse aid.

6. We voluntarily contribute to social goals, such as community dinners, partnership with local charities and suppliers

7. We continuously work to reduce our environmental impact by minimizing the consumption of waste, gas, electricity, and water. Examples are:
Energy savers in the hotel rooms that switch off electricity.

Water-saving taps and showers, without compromising comfort.

Optimal waste separation and as little packaging as possible on the buffet, where we:

of course, hygiene comes first.

Everything is LED lighting and we have motion sensors in several places to save energy.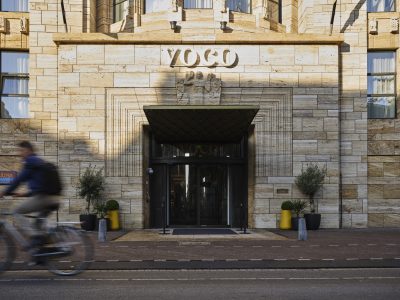 Our steps towards a better future
Employee Volunteering

voco The Hague offers employees the opportunity to volunteer for a charity of their choice on a workday each year.

IHG Giving for a Good Month

Every September, voco The Hague dedicates the entire month to giving back to our communities as part of IHG's initiative.

Textile and Lost & Found Collections

We encourage our colleagues to donate textiles to support charitable causes that contribute to the growth and development of our community.

Charitable Auctions

Supporting various charities, voco The Hague contributes to fundraising efforts by providing bed & breakfast dinner vouchers for auction, and raising funds to support diverse causes.

Plastic Soup

The hotel participates in the Statiegeld donation to the Plastic Soup Foundation, contributing to environmental sustainability by addressing plastic pollution.

Give Me 5

As part of the GiveMe5 program, we provide five rooms (or 1% of our total occupancy) for economically homeless individuals. Allowing them to stay for three to six months enables them to recover from life on the streets and transition to work and housing.

Local and Seasonal

Our F&B outlets serve a seasonal, locally-sourced menu that supports small businesses in our community. Enjoy the best of The Netherlands with our home-grown and homemade ingredients.

Second Life

We recycle and upcycle every ingredient to reduce bar waste. We use pulp, skins, seeds, pits, leaves, and roots by infusing them into syrups, making shrubs, or using them as edible garnishes.

International Women's Day Charity Event

A commercial gathering with corporate clients aimed at collecting female products for donation to Kessler Stitching.

STiP program

Collaborating with the City Council in the STiP program, which aims to reintegrate individuals living on social security benefits back into the labour market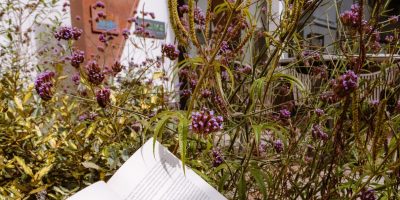 Together we can built on Sustainability
We understand that the path toward a more sustainable future is a lengthy process, but it's one we are firmly committed to. We firmly believe that collectively, small initiatives can make a significant difference.
Discover voco The Hague