Can you imagine, going to work at a beautiful hotel in the city center of The Hague? Arriving in a busy hotel with happy guests, waiting for you to make their stay unforgettable? At voco The Hague, this will be your daily life! Together with an amazing international team, you will impress the guests with your hospitality and give them memories that last a lifetime. Not only are you responsible for the guests, but also your team. This is your time to shine! You will be the role model for all the other hosts, and you will be their rock during busy times! Sound good right?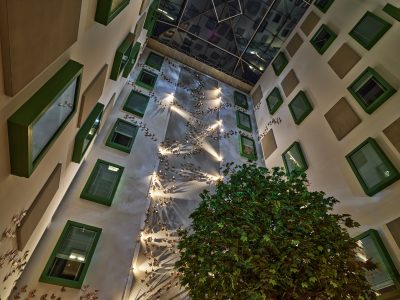 Your day to day
As Front Office Supervisor, you are the connection between the Front Office Manager and the Front Office Host team. But there's more to it: You are also the one that makes sure the guests are happy and the front office operation runs smoothly. Simply said, you are present and available to your colleagues and guest when needed. You focus on organizing your shift in such a way that you and your team are ready to deliver a memorable experience to all our guest. As Front Office Supervisor you are the person that knows every little corner of the front office, and every colleague. You can state that you are the voco® The Hague expert.
Do you have what it takes?
Passion for hospitality.
Knowledge of PMS system Opera is an advantage.
Experience in operations within a hospitality environment.
Time and task-management, creativity and presentation skills.
Pro-active attitude and eye for detail with a natural drive for continuous improvement.
A naturally outgoing and friendly personality with a passion for service excellence in order to consistently deliver and demonstrate voco™ service standards to our voco® guests.
A true "team-player" mentality and flexible attitude towards a diverse set of tasks.
Excellent communication skills in English. Another language is always a plus.
Benefits
You'll be part of the voco® life
Competitive salary and travel allowance based on the distance between your home and the hotel
Staff discount at 6000+ IHG hotels worldwide. You'll be able to stay at hotels for a discounted rate and you'll get 50% discount on your restaurant and bar bill
Overnight stay at voco® The Hague as part of your onboarding
Special friends and family discount for stays at voco The Hague including breakfast
We have a staff canteen in which we serve staff meals
Discounts to several cultural events such as museums, festivals, theatre, musicals, concerts and much more
Curious about different departments? We offer cross trainings!
To stay fit we offer a 20% discount on your contract with Trainmore + 1 Euro discount for every time you go!
Discount on a collective health insurance
Discount at local businesses in The Hague.
Once a year you get to spend a paid day as a Volunteering Day to volunteer for a charity of your choice.
Your staff uniform will be washed by the hotel
There will be staff parties, events and departmental outings
You'll be working in a passionate and ambitious team
You'll have the opportunity to take part in trainings and workshops
You'll be working for an international hotel chain in the heart of The Hague